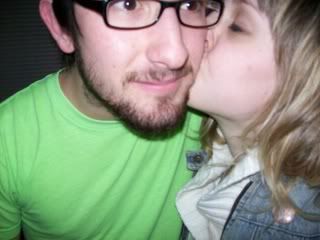 happy happy joy joy
(the weirdest photo of my favorite people; lindsay was too drunk and i love her for it)
RANDOM THINGS/THOUGHTS/LOVES AND SUCH:
- The puppy fever rages on. Today I am going to the library and I am going to get books about dog breeds. I am really going to drive myself crazy over this.
- Becky comes to visit
ONE WEEK FROM TODAY!!!
it is going to be so fun and exciting! That Saturday alone our itinerary is as follows:
market in the morning
early evening show in dartmouth (baked at a HC show...yessss)
tribeca later that night
late-night casino romps!
slumber party in my comfy bed!
- I have been going to the gym lots and lots this week because I got a trial membership until I can buy a real one next week. I had a session with a personal trainer (which was okay, but i think i would have gotten more out of it had I actually paid), went to a spin class, regular work outs, and the best part: STRIPPER CARDIO.
HONESTLY, if you ever gt the chance to take a class like this, DO IT. It was single-handedly the most empowering thing I have ever done. Women of all shapes/sizes/ages in one room together celebrating their bodies and sexuality as an encouraging group, all the while bettering their health in the process. amazing. I'm going to be the next pussycat doll if i keep it up.
- I FINALLY got my bedding and remaining clothing from Ontario (thanks to becky <3) but my sewing machine was lost and/or stolen during the move. SOOOOO bummed. I now have to buy a new one when I get the dollars. sigh. so bummed.
-I am addicted to the bulk barn.
-Chivalry is not dead in Nova Scotia. I have this big huge hockey-bag-esque thing that I have to take to clients to to fabric presentations and I swear if I was single I would use that thing to pick up dudes. I always seem to have a handsome man helping me get it into/out of my car, or hold a door for me while struggling. it's so awesome.
-yesterday i went to show a client the new collection of fabrics so they could order samples and ended up selling 300yrds of fabric. wahoo!
speaking of work...BACK TO IT.