Jenny Dames, this one's for you!
If you're reading this blog, that probably means you're friends with me, which translate to you knowing who Miranda July is.
BUT!
did you know she had this fantastic website/book with all sorts of wonderful interactive artistic assignments for people to participate in? You complete the assignments, and send in photos or writings or whatever they ask, showing how you completed the assignment!!
CHECK IT OUT!
http://learningtoloveyoumore.com/
SOOO!
that being said, my wonderful wonderful bf and I completed assignment #63 together!
Assignment #63
Make an encouraging banner.
1. Draw each letter of the sentence on a large piece of colored construction paper or big squares of fabric. One letter per piece. Draw them blocky so you can cut them out.
2. Cut them out.
3. Glue each one onto a piece of construction paper or fabric that is a contrasting color.
4. Then glue the edges of all the pieces of paper or fabric together to make a banner.
5. Hang the banner in a place where you or someone else might need some encouragement, for example, across your bathroom. Or between two trees so that you and your neighbors can receive encouragement from it. Or in a gas station.
We took a long time to think about what the banner should say, and finally with a little inspiration from
miss lovely jenny dames
we decided to make it say:
KEEP CALM & CARRY ON
here's some pictures, although Amir took better ones on his fancy camera so I will probably post those later:
The work in progress!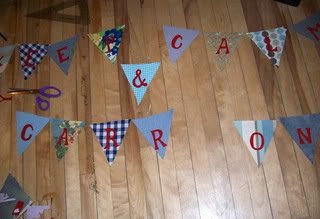 We really cracked down and dedicated an entire crafternoon of tea and no-sew to make it.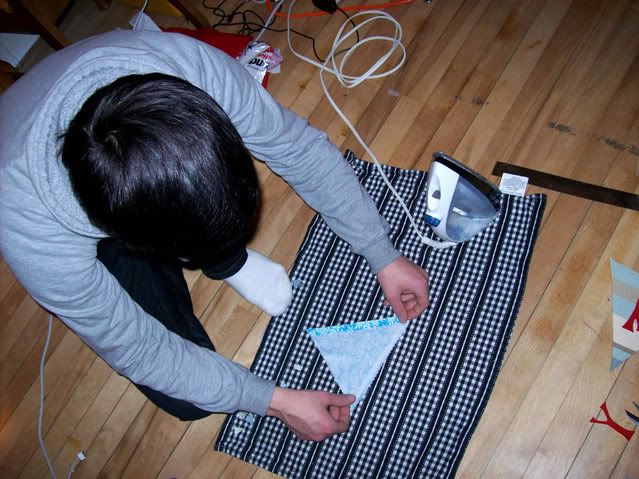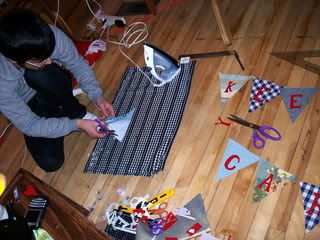 Amir's tailoring ability was an asset to the immaculate finishing quality. :)
The next day I finished all the stitching while Amir was hemming pants all the live-long day, and then we hung it up when he got here! wee!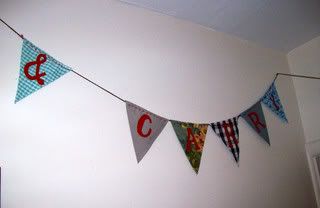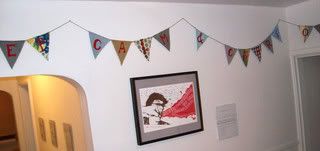 Cropped, but none-the-less, the fruits of our labor!
Now when I wake up in the morning, and I go to put the kettle on, I will turn around and think "yep. keep calm, carry on girlfriend."
****EDIT!!
Here's the shot that Amir took that i mentioned!
http://farm3.static.flickr.com/2279/2256022135_98b8cf188a_b.jpg
i'm the happiest i've been in a very long time.
<3