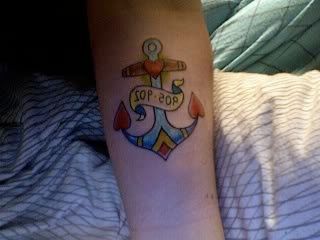 ohhhhh my.
look what jo has gone and done.
she loves me! she really loves me!
this is one of the sweetest things anything has ever done for me. Sorry it's mirrored; it reads " 905.902".
le sigh.
this rules. this seriously rules. i am at a loss for words.
thank you so much sis. I want a visit. Is that too much to ask? put me on your forearm forever AND fly halfway across the country to see me? gimme gimme gimme.
oi!
a list of activities making me happy lately:
-bingo nights
-board game nights
-dog shows
-4:20 sundays
-clothing swaps
-letter writing
-cooking with amir
-hang outs with girls
-hang outs with boys
-burrito bike saturdays
-going to the gym
-dancing in my kitchen, in my living room, in my bedroom and in my car.
a list of upcoming activities while becky is here!
-going to the market on saturday
-free all ages HC show
-tribeca!
-casino adventures! (i get some casino v-cards that night...FEELIN' LUCKY/GETTIN' LUCKY)
-Biggie tribute night/bed pre-drink party
-trivia for beer at rogues
-bingo at the sportsplex
-lasagna night at mom and pop's
-frenchies trip to the valley
-keiths brewery tour
-burrito bike!
those are the for sures. we have so much else to do! the time is going to fly!
3 sleeps!