CHECK OUT THE NERDY CAR I BOUGHT!!!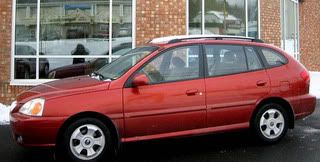 I promise it looks nicer in real life. It is a kia rio but the wagon version. 2003, but only 38,000kms on it! a real bargain if you ask me.It doesn't look the slightest bit like what i imagined my first car to resemble, but it will be perfect for work since it has the big trunk and the seats fold down.
Now I will know what it is like to be J.C. since I will be everyone's go-to girl for moving shit. haha
so yeah, i've got myself some wheels, i go see my apartment tonight to sign the lease, my blackberry is hooked up and I am basically good to go!
now all i need is some dollars. GIRLFRIEND IS BROKE AFTER ALL THIS BALLIN'....