"no one sleeps yet, lets keep it goin' til the mornin'...."
my life has been so fucking whirl wind this week.
I think i am subconciously rebelling against something that I am not even aware of.
basically, i just finished a 3-day bender. how 2004 of me.
anyways.
thursday was my work party. I was kinda concerned about this one, and totally not expecting what was about to ensue.
We had this private function at work to launch our new canadian furniture collection. 60 people RSVP'd, about 25 non-employees showed up. We had bought 3 grand in catering (open bar) and yup, no one showed.
so anyways, izzy who MAYBE has a glass of wine on holidays had 5 glasses of wine, and i had 7 or 8?? fuckkkkk. anyways i was very composed (probably because of all the food we pecked at since no one showed) until i actually left the party to walk to the subway with izzy. oh, fresh air.
anyways a train and bus ride later, i run into spencer on the street, buy another bottle of wine (whyy??????) and decide to call cam, my neighbor.
me:"HI CAM!! WANNA WATCH THE OFFICE???"
cam:"yeah dude, come smoke a spliff and watch the office"
me:"okay!!! i've had 8 glasses of wineeee!"
ugh.
so anyways you can see how this turned southward at this point. i tried to get some food, that didn't work out, but because all of this had already happened by 10:30 pm.
anyways it could've been worse because i still got 8 hours of sleep and was hazy and probably smelly at work the next day but they didn't know the half of it and i still had leo's party that night.
friday after work (good god what a long day) i went to the eaton center to buy some duds and bought some sick purple cords for 10 bucks and a shirt for 10.
leo and the gang came over around 9:30. here are some photos:
me, chris and sharai, red wallin'.
me and colly. i dunno what i am doing.
the crew. this photo actually warms my heart so much. i miss lynn kane though.
and look! leo is excited!!
me and my bestie. happy birthday buddy.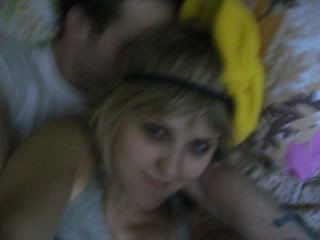 7:30am.
i went crazy the next morning after my 2 hour beauty sleep, but i was so happy. so so happy.
the night was actually SOOOO FUN. It was amazing to see leo actually so fucking stoked on something. Sharai and I abducted colleen who wasn't going to come, and the night was unreal.
Basically, circa is really fucking expensive but so fun. 15 bucks for cover and 6.50 drinks but it is a million floors of fun. They played so much good tunes and it really felt entirely like cute girls, gay dudes and us. The played "revolution" by the beatles and everyone had peace sing hula hoops and painted posters saying all sorts of peace-related wonders. there were people dressed in crazy costumes, and all of us just danced with each other balls out to every song. we danced with randoms, (dudes, girls...whatever) and leo got sooo sloppy and i loved it. EVERYONE just had fun and was care-free and soooo happy.
Later we went back to my house to smoke cheeba and then chris put on my purple pants and we all decided it was a great time for me to learn to skateboard?? anyways SK8 OR DIE?? i dunno, but 4:20 rolls around, we blaze, and i get a phone call from JC (my favorite drunk) who is so happy because Dougie is in town and about to visit?? i guess he let the cat out of the bag though because it was supposed to be a surprise and dougie had been trying to track down spencers # so he could get our address and surprise me, but instead he just drove to my house at 5am and it was surreal and amazing and so funny to see him flip out about all of his former co-op students hammered laying all over my house.
saturday i ended up staying in bed until 3:30 or so, minus the brief early morning crazies before leo and the crew left. Dougie and I went back to oakville where i met jo for a late lunch, and we went to her ("our") mama's house. I LOVE HER. ann was so happy we were there and of course the wine got going (fuckkkkk) and the next thing we know we are sitting in her moms bed, drinking wine, and looking at her new clothes?? jeeeeeze.
later on i went to the firehall where jo, dougie, jc, cody, lauren and I hung out and drank doubles and i felt sorry for myself for partying yet again. but talk about the most surreal moment...hanging out with all of daves closest friends on my own terms, back in bronte. then we spoke about dottie and i got nostalgic and sad, but it was good to know he was doing okay. but yeah it gets weirder.
so then we decide to go to lauren and codys house which just so happened to be IN THE SAME COMPLEX JC, JO AND I ALL LIVED IN THAT BURNT DOWN. fuckkk. and they had these 2 adorable dogs (i don't do well with adorable family dogs any more) we had grabbed MORE WINE from ann's house on the way there, and so yeah.
yeah.
ugh.
got a ride back to toronto which was sweet but seeing dougie for such a short time is such a friendship tease.
BUT THEN TODAY!
i met becky, adam and neil at union station at 12:45 intending to go to toronto island and go biking all day. but due to the fact that it was 24 DEGREES ON A SUNDAY IN LATE OCTOBER everyone had the same idea and we sold our tickets instead of waiting 2 hours for a ferry, and biked suppppper far west on the waterfront, just past that huge white super architectural bridge you can see from the highway when you are approaching toronto. we had a healthy picnic, blazed, and took photos. we biked up to queen street for candy after that, making the whole ride almost 20 km (i mapquested it haha). i met chris, came home and hung out with him and cam for a bit, and now i am calling it a day.
or a summer.
or a blur.
but it was amazing.