Apartment hunting hasn't been the easy task I thought it would be. Tomorrow I am going to the city and walking around and writing down numbers. At least that way I will know the location and not feel so mis-lead.
anyways, this is me bored at the "office", aka, my desk looking for apartments
Then I remembered THIS: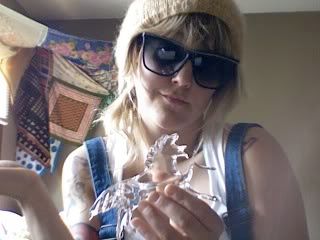 !!!
Clayton made me a glass pony!! This is my "no big deal-my boyfriend just makes me awesome glass ponies and yours doesn't"
face.
SUCCCCCCCCCH a keeper
Here is a be-lated camping picture:
we were lazing in the sun on the beach at our campground.
He is the apple of my eye <3
p.s.
HEY FRIENDS! I WILL SEE YOU IN HALIFAX SOOOOOOOOON! WEEEE!