My fucking saint of a boss wine-and-dined me at Brooklyn warehouse, and then took me shopping!!!!!!!!!!
She bought me this gorgeous dress from Banana Republic: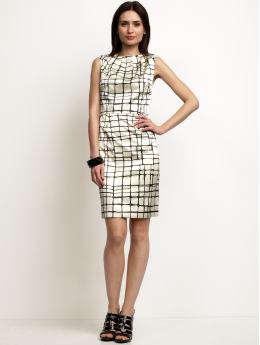 (which i must say, looks better on me than this model haha)
And this sexy YSL-inspired purse from town shoes:
It was insane. She was at banana republic buying herself a dress and was like "okay! pick something out!" I mean, WTF!?!?! I loved this dress but she picked it out for me. I knew that I loved it but would never find a reason to EVER buy it for myself. I can't wait to wear it with a belted cardigan when I go see big important clients, or on its own with pumps and a clutch on a fancy date night or to an event. Its like the nicest thing I own. And then to buy me the purse?! WTFFFFFFFFF. She was buying herself some shoes to match her dress and then asked the salesperson "will you give me a deal if i buy both"?? I nearly passed out.
she is my fairy-god-boss.
I have learned over my young life that hard work really does pay off. Rarely does any wealthy person say they got rich from being lazy. I am so lucky to have such an incredible job with such amazing employers.
things are GREAT.